Fordham Prep Fundraiser
Nick Cannone, FNP, Associate Medical Director - Maze Men's Health
Nick joined Fordham Prep for their 21st Annual Golf Outing. The fundraiser helps support the school's mission of providing education to young men regardless of their financial circumstances.
Certified Menopause Practitioner
Cathleen Kneidl, RPA-C, Assistant Director - Maze Women's Health
Cathleen earned her certification as a Certified Menopause Practitioner through the North American Menopause Society (NAMS).
Lab Supervisor Earns Master's Degree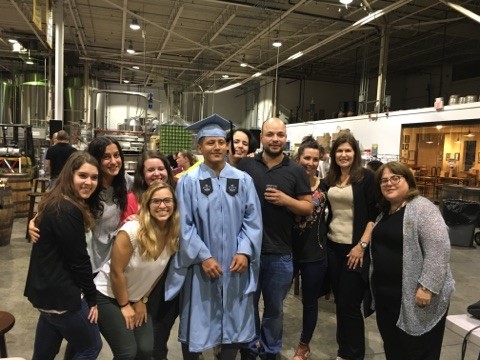 Sunit Khadge, Lab Supervisor - Maze Laboratories
Sunit recently earned his Master's Degree in Epidemiology from Columbia University's Mailman School of Public Health. Colleagues joined him at the Captain Lawrence Brewing Company to celebrate!
Multiple Sclerosis Walk
Maze Health showed their support for the Multiple Sclerosis Society by gathering a team of employees and friends for the Walk MS: Westchester 2017 in Rye Brook, New York.
Wiggle Your Toes Foundation Fundraiser
Paul Nelson, MA, CCMA, Clinical Sexuality Educator (right) and Michael Sargent, MS, Exercise Physiologist (left) - Maze Men's Health
Paul and Michael attended a charity golf outing for the Wiggle Your Toes foundation, whose mission is to empower those who have lost a limb to move forward, take action and get back to the life they want.